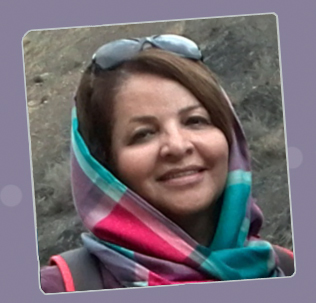 Parvin Tajvid
Co-Founding Partner, Executive Vice President
---
Born in Iran ( Mashhad) in 1961. She is CEO ,President, Producer, Director, and Scriptwriter.She has graduated from IRIB Film School in Animation and started with short film has been directed for Cinematic foundation Farabi Namely "The Veil of Illusion".She joined the "Cinematic Affairs" Department of the IIDCYA Filmography In 1993 and cooperating in these projects:
The lonely Cuckoo(1995).
The Story of Aunt Ra'na and Aunt Nessa (1996).
The Story of the Little Piece of Cheese (1999).
The Most Beautiful Song(2000).
Remembering God.(2006).
The Rooster and the farmer (2010).
King and the Deer (2012).
Working with Saba Center since 1995 up to now and established Jooje Animation Company in 1998.The followings are some of her projects cooperated in common Saba Center and Jooje Animation Company as Scriptwriter, Producer, Director:
Adventures of Atlasi (TV series /5parts-9minutes).
The child (TV series/10parts-8minutes).
The Little Hasan 1,2,3(TVseries /49parts-6minutes).
The Pray (Short film/5minutes).
Khaje Nasir (1 part/35 minutes).
Hasaniʾs Songʾs (TVseries/26part-8minutes).
The Occupations (TVseries/15part-5minutes).
Some teasers and logos has produced in Jooje Animation Company are including: Alboz Tire,Shirnoosh Milk,Gear oil,motorcycle oil,Bahane Namaki snack,Badook,numbers of teasers and logos for Poya Network.
Other Activites:
Directiring numbers of short interludes and teasers and opening logos including the logo for the 2nd Tehran International Animation Festival andThe book and press exhibitions of Children Festival.
Member of jury in numbers 5th Tehran International Animation Festival.
Member of selection committee in Tehran International Animation Festival (three times).
Member of jury in numbers of House of Cinema and Asifa Festival and Film screenings.
Attending in National and International Festivals with productions includes, Esfehan international Festival,Rosd International Festival ,Short film International, Tehran Animation International,Green Festival,Razavi Festival, Nahal Festival,…
Participating in competition International Festivals: Annecy, Keeyv, India,Hyderabad, mumbai.
Awards:
Certificate to short film Festival for zenith teaser.
Certificate to IRIB National Festival for The Pray.
Certificate to Rosd International Festival for king and to the Deer.